| | | |
| --- | --- | --- |
| Nov. 11, 2013 | Dainichiseika Color & Chemicals and Mitsubishi Corporation Establish Plastic Compound Manufacturing and Sales Joint Venture in Mexico | PDF:176KB |
Dainichiseika News Release
November 11, 2013

Dainichiseika Color & Chemicals Mfg. Co., Ltd.
Mitsubishi Corporation


Dainichiseika Color & Chemicals and Mitsubishi Corporation Establish Plastic Compound Manufacturing and Sales Joint Venture in Mexico


Dainichiseika Color & Chemicals Mfg. Co., Ltd. (DNS) and Mitsubishi Corporation (MC) have entered into an agreement for the establishment of a joint venture company (the Company) in the State of Guanajuato, Mexico, to manufacture and sell plastic compound. The capital contribution ratio of the Company is 65% by DNS, 35% by MC group companies (30% by MC and 5% by Mitsubishi Corporation (Americas)). The Company is scheduled to commence production in January, 2015.
Plastic compound is a granular shaped molding material, which consists of base plastics and additives such as coloring pigments and reinforcing materials, customized for various applications.


Automobile production in Mexico has reached approximately 3 million units per year, making it the 8th largest car manufacturing country in the world, with continued growth expected into the future. The demand for plastic compound, an essential material for car production, is therefore also forecasted to increase, together with the growing need for localized production.
In order to respond more effectively to demands for procuring plastic compound locally, the Company will be set up in the state of Guanajuato, the major center of automobile production in Mexico, and will serve as a base for supplying high quality plastic compound in Mexico and in neighboring countries.
DNS already has operations in a number of countries around the world, particularly in Asia, and the establishment of the Company brings its global footprint in the plastic compound business to 10 locations in 7 countries, namely China (Shenzhen, Dongguan, and 2 locations in Shanghai), Vietnam, Thailand, India, Netherlands, Brazil, and now Mexico. Through the Company, DNS will continue to provide timely, customized manufacturing controls and other services to customers, based on skills and expertise honed over the years. DNS will provide support to the Company from Japan in an effort to optimize production systems, manufacturing methods and quality controls, all with a view to improving customer satisfaction.
MC will support the Company by applying knowledge of the plastics business gained from experience in the United States to Mexico. MC will also continue to play an important role in the plastics supply chain in the Americas. Consequently, the Chemicals Department B of Mitsubishi Corporation de Mexico S.A. de C.V will locate its Queretaro Annex Office within the vicinity of the Company. The Office will serve as a base for the sale of plastic products, including plastic compound, PVC resin and plastic additives.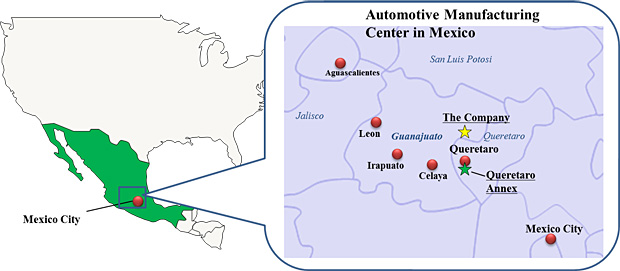 Joint Venture Overview
| | |
| --- | --- |
| Company name | DM Color Mexicana S.A. de C.V. |
| Type of business | Manufacturing and sales of plastic compound |
| Location/th> | The State of Guanajuato, Mexico |
| Date established | November, 2013 |
| Operation start date | January, 2015 |
| Paid-in capital | US$ 10million |
| Land area | Approximately 40,000 square meters |
| Shareholders | DNS 65%, MC 30%, MCA(*) 5% |
| Production capacity | 10,000 tons/year (initial stage) |
* MCA – Mitsubishi Corporation (Americas)



Inquiry Recipient
Dainichiseika Color & Chemicals Mfg. Co., Ltd
Telephone:+81-3-3662-4130 / Facsimile:+81-3-3808-0689

Mitsubishi Corporation
Telephone:+81-3-3210-2171 / Facsimile:+81-3-5252-7705