Gravure Inks Division
Providing inks and peripheral products for gravure printing
We develop, produce, and sell gravure inks that allow printing on a variety of mediums, leading to business opportunities and new market creation. We also deal in coating agents and flexographic printing inks.
We have been developing biomass-derived inks and water-based flexographic printing inks for films that conform to the latest market trend, while conforming to voluntary regulations concerning printing inks for food packaging.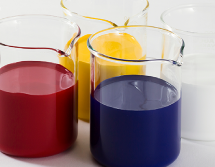 Features and advantages
Leveraging the network and knowledge developed in collaboration with a wide range of industries, we offer integrated solutions with our specialized inks, coating agents and adhesives, for products ranging from food packaging to building materials.