Plastic Colors No. 1 Division
Providing colorants for thermoplastic resins
We develop, produce and sell colorants and functional materials used in a variety of resins, from general-purpose to engineering plastic, and have gained a strong reputation as an independent resin compound* manufacturer.
We supply finished products such as powdered and granulated colorants, and our advanced formulation technology and design capabilities make possible the creation of various colorants and special compounds for niche applications, helping us meet our customer needs.
* Molding materials kneaded with various additives/fillers such as pigments and reinforcing materials into plastic resins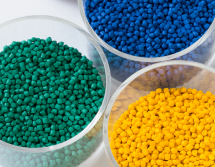 Features and advantages
We have nine sales branches and five manufacturing sites in Japan, and nine site and offices in six countries outside Japan. We offer value-added products in response to various needs through our integrated sales, manufacturing, technology and staff departments.
Related Links