Offset Inks Division
Providing printing inks for paper media
We develop, produce and sell functional inks based on offset printing inks, used in paper media such as flyers, books, and packaging materials.
We offer seamless solutions for not only printing inks, but also for peripheral equipment and printing materials spanning the pre- and post-print processes.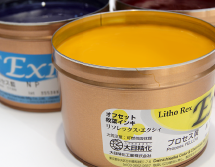 Features and advantages
Our inks for web offset printing and sheet-fed printing provide a wide range of colors beyond the basic cyan, magenta, yellow, and black (CMYK).
The superior sheen of our metallic inks and our designed OP varnishes will improve the presentation of printed materials and add value.