Examples of Core Technologies, Products and Development
Our Technologies
We provide new value through our various accumulated technologies, especially functional technology, which integrates our three core technologies depicted in the diagram for product development.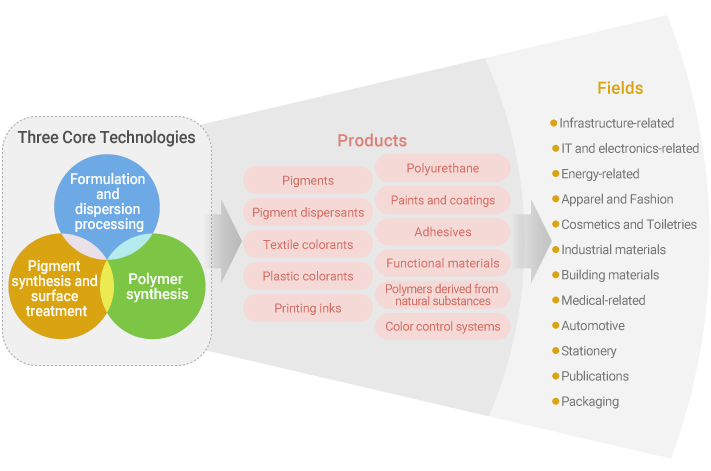 Our Three Core Technologies
Pigment synthesis and surface treatment
Centered on the color theory of chemical bonding, the technological field of pigment synthesis comprehensively draws on the knowledge of physical and surface chemistry.
Our technologies realize not only high dispersibility and color properties, which are indispensable in coloration, but they can also chemically treat pigment surfaces to add unique functionality. Pigment for LCD color filter is an example of our product utilizing this technology effectively.
Formulation and dispersion processing
Stabilizing the dispersion of a pigment that does not dissolve in water or oil in a target material requires extensive know-how. We possess a wide range of dispersion and processing technologies that can be applied to virtually all solids and liquids.
We use these technologies for the production and development of functional materials by applying them to acquire attributes such as conduction, flame-resistance and strength, as well as coloration.
Polymer synthesis
This technology synthesizes plastic and rubber from organic chemical and naturally occurring substances. With products such as polyurethane, polyamide-imide, acrylics and natural polymers, it makes tailoring material designs with particular characteristics possible. Through this technology we carry out one-of-a-kind product development and manufacturing.
Research and Development Program

Roadmap Realized by Upgrading Our Three Core Technologies