Plastic Colors No. 2 Division
Providing colorants for PVC, fluoropolymer and other resins
We develop, manufacture and sell colorants and functional materials for polyvinyl chloride (PVC), high-performance fluoropolymers, and thermoplastic and thermosetting resins.
We also use dispersion and processing technologies, which enable various plastic compounding methods that have a high degree of difficulty. Through them, we contribute to meeting customer expectations to achieve highly functional and high value-added products.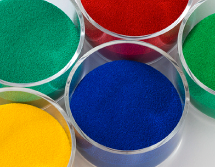 Features and advantages
With production equipment that can cope with a range of product shapes from paste to powder and excellent dispersion and processing technologies, we utilize our accumulated know-how to meet the demand for plastic colorants across various industries.
Related Links